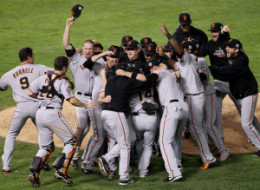 Last night the Giants won their first World Series in San Francisco. The baseball season officially ended for 2010, and next year (as in wait till next year) begins today.
Recently E! published its list of the top ten baseball movies of all time (sorry, I can no longer find the link online). The list itself is obvious, but I disagree with the order:
For the next 3 months we can devote ourselves to football full-time. Maybe in February I can grab a copy of Eight Men Out and finally see the whole movie... While we dream of spring.